It's my turn to set this weeks challenge in our 7 Colours of the Rainbow term of 4-7-11 at
LSBS
. This week we are going green! Here is my sample page: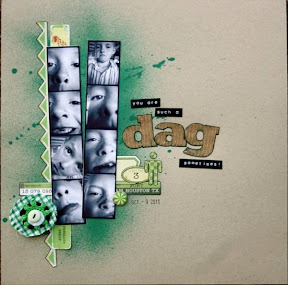 I really struggle using the colour green on my pages for some reason, so this was a challenge for me! lol I couldn't find any alphas to suit my page, so initially I sprayed these Jillibean Soup corrugated alphas with green Mister Hueys. I didn't like the way they turned out so while they were still wet, I peeled the top layer off. I love the effect they have now with the green around the edges! :)
I've used some Crate Paper 'Toy Box' on this layout and added a fabric flower.
If you would like to play along, check out my challenge
here
.
Thanks for stopping by...